Okay. I confess. I'm a cat person. I also, of course, love riding my bike but I never imagined that these two passions could overlap, but apparently they can.

I was looking through House and Home magazine online for ideas about a kitchen renovation we are doing. I, like most people, find that it is just too easy to get distracted when online, but of course, (no surprise here) this is all part of the plan that companies have when they design their web pages.
The link "10 Mod Cat Accessories" had me clicking away from the task at hand to find out what every modern home needed in order to ensure the comfort and health of their feline housemates while still maintaining a modern design aesthetic.
The Cat's Wall Wheel is just the thing for the lazy cat. Manufactured by Holin Design in Poland, every cat owner with $750 USD to spare can ensure that their cat has opportunity to shed excess pounds in the comfort of their own homes.
Holin Design manufactures beautiful steel-frame single-gear bikes and bike accessories. The Cat's Wheel incorporates a bicycle wheel center with a 10.6 inch wide wooden track, the "Cat Treadmill", so to speak. Beautiful to the eye, but I wonder how one encourages one's cat to "take the bait" and use it. This picture from the Holin webpage, tells the story, I think.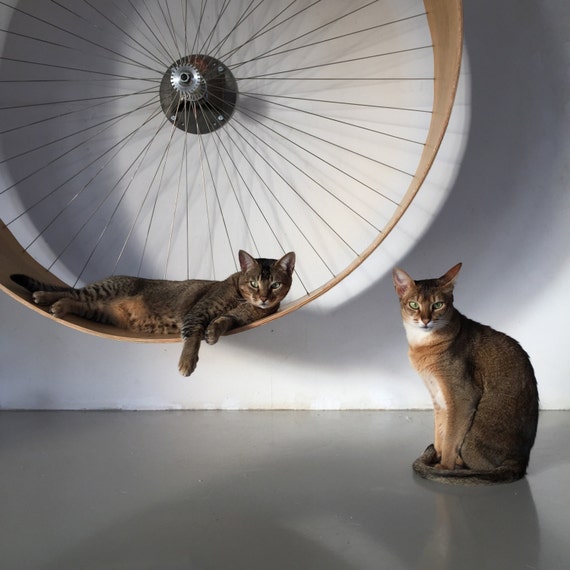 The regal cat looks quite comfortable lounging on the wheel but disinclined to propel it. Humans may be silly enough or smart enough, depending on one's perspective, to run on treadmills, and hamsters love their hamster wheels, but I doubt that the ever-superior cat can be encouraged to do the same.
If you are inclined to buy the Cat's Wheel, you can find it Here. Let me know how it works out for you!